The smart materials market is evaluated at US$47.544 billion for the year 2019 and is projected to grow at a CAGR of 13.46% to reach a market size of US$115.080 billion by the year 2026. Smart materials are materials that are adaptable or clever and have both inherent and extrinsic qualities. External stimuli, such as moisture, temperature, electromagnetic field, and pressure, can change them to achieve the required functional results. Furthermore, these materials are dynamic and alter their properties in response to their immediate contact settings. Advances in materials science have allowed for the production of materials for specific purposes that were previously impossible to achieve with traditional materials like polymers/plastics, metals, glass, and ceramics. Smart materials may function at a fundamental level, such as temperature, and can be integrated into more sophisticated technical systems by adding new capabilities and characteristics. Smart materials, for example, can be utilized in microelectronic component energy supply systems.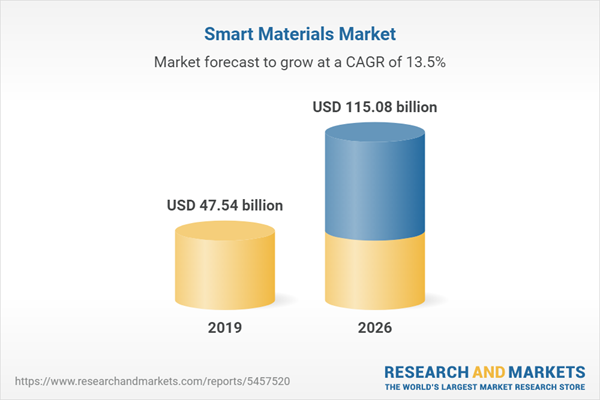 Over the next few years, increased usage of smart actuators and motors, sensors, and structural materials is expected to boost demand. Furthermore, these items aid in the reduction of daily routine complexity and make life easier for the elderly. In the not-too-distant future, the population share of this age group is expected to grow at a substantial rate, resulting in increased demand for smart materials goods.
Inclining demand by the Aerospace industry to drive the market growth.

In the aerospace industry, piezoelectric smart materials aid in directing and sustaining airflow over an aircraft's wings during take-off and landing. Furthermore, these materials are recognized to handle typical aircraft issues such as engine vibration, high cabin noise levels, ice development on wings, turbulence-induced flow separation, and control surfaces in cold temperatures. To meet the continuous growth in air travel across new and established countries, airline operators are anticipated to replace older planes with more fuel-efficient models and extend their fleets. Passenger air travel grew at a rate of 6.5 percent each year over the previous decade, far above the long-term average of 5 percent. Many of the world's airlines expanded their fleets by receiving new planes and deferring jet retirements to meet passenger demand in this business climate. The growing number of aircraft deliveries is projected to boost manufacturing activity in the industry, which would boost demand for innovative materials to minimize vibrations and sounds, boosting worldwide piezoelectric smart material consumption.


Growing Geriatric population to aid the market demand.
In elderly population-centric goods, smart materials are gaining appeal. Furthermore, these items aid in the reduction of daily routine complexity and make life easier for the elderly. In the not-too-distant future, the population share of this age group is expected to grow at a substantial rate, resulting in increased demand for smart materials goods. Per the U.S. Census Bureau, the US had more than 40.3 million residents 65 years and above in 2010 which has increased to 54 million in 2019.


Increasing the number of applications to contribute to market expansion.

The usage of smart materials has grown across a variety of end-user sectors as manufacturing processes have improved and improved materials have been used. Smart materials are expected to expand their applications much further, and they will play a key part in the growth of the smart materials market. As a result, the impact is expected to be significant during the predicted period. In recent years, materials such as piezoelectric, shape memory, electrostrictive, magnetostrictive, phase change, and electrochromic have achieved widespread industrial adoption. Furthermore, ferromagnetic shape memory alloys, electroactive polymers, conductive polymers, and carbon nanotube actuators are just a few of the new materials that have a lot of potential in the market.


Government initiative and increasing Research & Development to augment market growth.

Due to the high cost of smart materials, several industries, such as small and medium companies (SMEs), are now lagging. Several efforts and programs aimed at encouraging businesses to invest in and use smart materials are expected to influence throughout the forecast period.

Increased demand for improved smart materials and products from various industries, such as construction, manufacturing, and automotive, is expected to encourage key players in the smart materials market to invest significantly in R&D to introduce efficient products and stay ahead of the competition.

The lack of experience in creating systems based on smart materials, on the other hand, has generated market growth hurdles. Furthermore, a lack of knowledge among end-users has limited the product's economic potential, which is expected to stymie market expansion during the projection period. However, government and university-supported research and innovation programs are projected to hasten the product's large-scale industrialization.

Due to the increasing electronics industry and improving living standards in emerging nations such as China and India, the Asia Pacific market for smart materials is anticipated to grow at the highest rate. Medical device innovation has been aided by the use of smart materials in the healthcare sector. Manufacturing costs for large numbers in many applications at effective yields are the main constraint for smart materials. The smart materials market's growth is hampered by high production costs and expensive research & development expenditure. The market has a lot of potentials; therefore, a lot of manufacturers are concentrating on coming up with new goods to increase their market share. The new applications for smart material goods in the engineering industry include production control devices, self-detection, self-diagnostic, and other equipment.